Crazy Horse Saloon & House of Entertainment
Location & Contact:
1565 Gambell Street
Anchorage
,
Alaska
99501
907-279-1231
Email Us
View our Facebook page
Description:
Crazy Horse Saloon
Crazy Horse Saloon is Anchorage's premier establishment to suit a variety of interests. The Crazy Horse Saloon, open daily from 4:00 p.m. - 2:30 a.m. offers a Full Bar, Dinner and snack menu, slammin' & jammin' DJ's for your musical fun, a kiosk to buy one of a kind mementos, Texas Hold'm Poker (Sun. - Thurs.) and of course Stage Dancing (Nude).
NO COVER CHARGE!!!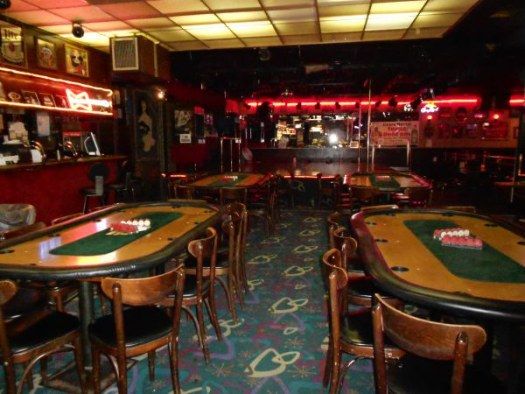 We have a variety of those who enter our establishment.

There are some house rules to remember. Be sure to watch your language, respect your wait staff & dancers, and the biggest rule of all....have fun!

We are proud to support our men & women in uniform.

Let - Ms.J, Mernie, Terry, DJ Bobby, DJ Kima and Gomez treat you to a wonderful experience in Anchorage.

Come out, have a drink, and have some fun with us. We'll be waiting on you!


Hours:
Monday: 4:00pm - 2:30 am
Tuesday: 4:00pm - 2:30am
Wednesday: 4:00pm - 2:30am
Thursday: 4:00pm - 2:30am
Friday: 4:00pm - 3:00am
Saturday: 4:00pm - 3:00am
Sunday: 4:00pm - 2:30am
Payment Options:
Cash, Credit, Debit, ATM, Visa, MasterCard
Reservations:
Not Accepted
Specials/Events
Crazy Horse Saloon & House of Entertainment
Every Day
At 6:30pm - 12:30am
Texas Hold'em games played in Anchorage at Crazy Horse Enjoy a good game of Texas Hold'em in Anchor…Read more
Crazy Horse Saloon & House of Entertainment
Every Day
At 8:00pm - 2:30am
New Dancers at Crazy Horse Saloon Crazy Horse Saloon is Anchorage's premier establishment to suit a…Read more
Report incorrect information